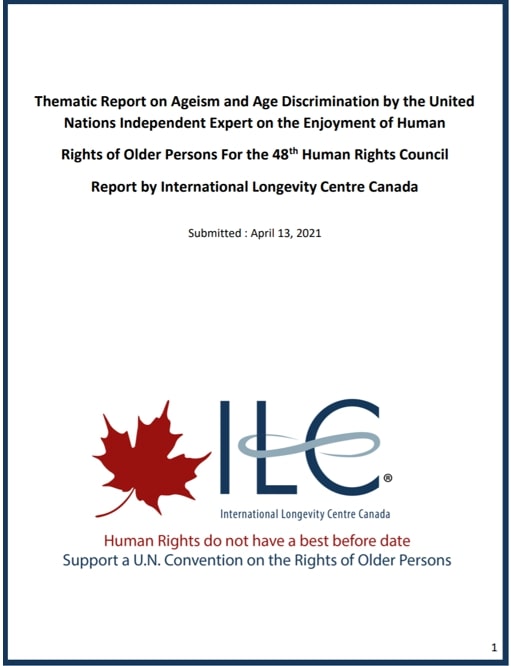 Thematic Report on Ageism – United Nations Independent Expert on the Enjoyment of Human Rights by Older Persons
14th April 2021
Ageism is rampant in Canada and around the Globe, impacting negatively on the lives of older persons in the workplace, in healthcare, in Long Term Care and in access to technology and other services. The following report from ILC-Canada presents evidence of systemic ageism and discrimination, calling for a legally binding document that addresses the gap in United Nations Human Rights Legislation, regarding older persons.
The last three decades of research on age discrimination targeting older adults shows that such discrimination is rampant among multiple social arenas, including work and employment as well as health and health care in Canada. Ageism stems from biased social representations of age that translate into mostly negative stereotypes. Notwithstanding the fact that these stereotypes have been disproved, they nonetheless often translate into discriminatory workplace practices on the part of employers, and impact older workers' sense of engagement, self-esteem, and intentions to remain (or retire). Canada does not have laws directly addressing the human rights of older persons.
In Canada, there are only three types of study population present in health studies: paediatric, adult male and adult female. Combined with the adult population, the older age group (65+) remains underrepresented in clinical trials, resulting in the omission of key information on the benefits/harms of treatment. When research fails to investigate questions relating to the older population in isolation from general adults, stratification by gender, ethnicity or socio-economic status is not possible. Throughout the COVID-19 pandemic, the catastrophe of Canada's long-term care facilities was brought to light, where older adults accounted for approximately 80% of all deaths, largely due to negligence in terms of lack of infection prevention and control and regarding the lack of government action within long-term care facilities.
Ageism permeates all aspects of the lives of older persons. In Canada, the current legal remedies for ageism and age discrimination do not adequately protect older people, furthering the need for a United Nations Convention on the Rights of Older Persons.