Nutrition and Hydration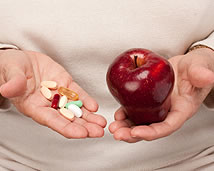 A healthy diet is an important part of a healthy lifestyle for people of all ages.
While the vast majority of people know what a healthy diet is i.e. low salt, sugar and saturated fats, high in fresh fruits and vegetables, complex carbohydrates and low fat sources of protein, many people do not manage to do achieve one.
Over-eating or eating too much of the wrong kinds of foods (high in fat, salt and sugar) can lead to overweight and obesity, which can lead to health problems through increasing the risk of chronic diseases such as cardiovascular disease and type II diabetes. Chronic diseases are currently a major drain on healthcare resources and diet can play a role in preventing and managing a number of chronic conditions.
At the other end of the scale, people can suffer from malnutrition (under-nutrition), which can lead to ill-health and impede recovery from illness. Due to physiological changes associated with ageing, older people, particularly the over 75s are at greater risk of malnutrition.
Adequate hydration is also important as it helps the body to function properly. Experts recommend that people consume around 1.2 litres (6-8 glasses) of fluid a day. Adequate hydration has also been shown to help manage conditions like diabetes and low blood pressure. Dehydration can negatively interfere with cognitive and physical functioning including kidney problems and result in dizziness, headaches, tiredness and digestive problems.
As part of ILC's commitment to healthy ageing, the Global Alliance has undertaken research and participated in initiatives looking into health and nutrition, including obesity, malnutrition and the nutrition of older people.
ILC-UK is a member of the European Nutrition for Health Alliance, a group of stakeholders dedicated to tackling malnutrition in Europe and works closely with the Hydration Forum in the UK Parliament.
News
Jikka House: an innovative senior living in Japan
We interviewed two older Japanese women who had moved from Tokyo to Izu Highland, a popular retreat for city dwellers, to build their private house and restaurant. They contribute to building a community by serving lunch and delivering meals to local residents.
July 2022
Reports

Functional foods can play a role in supporting older people's health says ILC-UK report.

This ILC-UK policy brief is the third and final publication of a series focusing on policies addressing obesity in the UK.
Obesity is a major public health problem in the UK. This report provides a comprehensive review of innovations and problems in tackling this challenge in light of devolution.

The increasing proportion of very old people in the population means that how to 'age well', even in later old age, is now an important issue for policymakers and researchers, as well as for older people themselves.