Intergenerational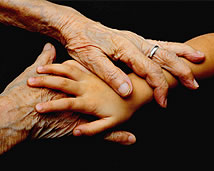 Outside family networks many people are segregated by age in all stages of their life; in education, housing and community, the workplace, and even health and social care.
Economic, social and cultural differences between the generations can cause tension. Understanding the impact of policy on intergenerational relations and the way in which policy affects people of all ages is essential in combating the inequalities these differences can cause. Social contact and interaction is extremely important, not only to the development of young children, but also across the lifecourse. These social relations are also vital, more generally, for social identity, reproduction of culture and the functioning of a cohesive society.
ILC sees healthy ageing as a holistic and all encompassing concept, which includes health related interventions as well as action in other areas which can impact health.
Activities to further healthy ageing could include:
*Access to healthcare services
*Health promotion
*Preventative healthcare
*Physical exercise and nutrition strategies
*Reducing age discrimination in health, employment and education policy
*Adequate pensions
Preventative interventions and health promotion are particularly important because of their potential impact on chronic diseases. While we hear every day that healthcare costs are increasing because of an ageing population, much of the increased demand on healthcare resources is related to chronic disease and not age per se. If chronic diseases can be prevented, their onset delayed or even just managed well, this can have a positive impact on the lives of older people as well as a potential cost savings for healthcare systems.
News
ILC-BR holds its 5th International Longevity Forum
On October 19 and 20, ILC-BR hosted the 5th International Longevity Forum in Rio de Janeiro. This year's theme was the construction of resilience along the life course; a very timely topic given the ongoing crisis in Brazil.
21st October 2017
Reports

An ILC Global Alliance paper examining household structure and intergenerational relations across a spectrum of countries.

This report summarises the discussions of two working groups convened by the ILC-UK to explore the 'National Care Fund' model, originally set out in the February 2008 ILC-UK publication: "A National Care Fund for Long-term Care."

A discussion paper accompanying 'The Age of Inheritance' and exploring what this research means for public policy including inheritance tax, the property market and debate on how to pay for an ageing population.

This discussion paper puts forward a radical new vision for funding older people's long-term care – one of the UK's biggest public policy challenges.