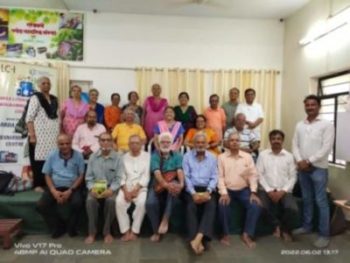 Update on the Mobile Literacy Training Programme by ILC-India
November 2022
Mobile Literacy Training (MLT) programme was started in 2017 by ILC-India, initially, only seniors from Pune city participated in the training. But later, with the mouth publicity, the ILC-India team started getting invitations from all over Maharashtra. This training aims at teaching seniors the basics of using a smartphone.
***
Mobile Literacy Training programme is a renowned field training programme of ILC-India which has covered around 1000 seniors from various parts of Maharashtra, India, since 2017. This two-half-day's training programme covers the basics and advanced usage of android smartphones for seniors!
During the pandemic, this programme was kept on hold as it was not possible for the team to conduct it online, especially when seniors really do not know how to even operate its primary functions.
Hence, since December 2021, the ILC-India team of trainers have visited many Senior Citizens' Organizations in and around Pune city, also in other districts like Satara, Kolhapur, Nashik, Sangli through collaborations with All Senior Citizens' Organization Pune (ASCOP) and Federation of Senior Citizens of Maharashtra (FESCOM).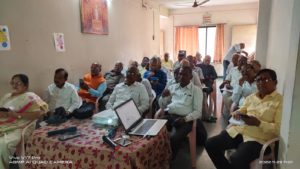 ILC-India team has observed the patterns among seniors like-seniors need not be technically savvy, but they should operate mobiles with confidence and should be able to make their day-to-day life easier.
This year, ILC-I's team of trainers decided to work with rural and semi-urban populations and they really enjoyed teaching them the applications of the smartphone. Curiosity in their eyes really encourages our trainers to go beyond the pre-decided module, and on the spot, they cover many queries by the seniors.
The training team on the second day covers OLA/UBER-cab booking applications, food delivery apps, basics of online payment applications and so on.
Recently, the team has started creating awareness among the seniors about online frauds of various types, like illegal payments, threats, false calls to tell them OTP or PIN, honey trapping through Facebook or illegal sites and so on. In this session, seniors really talk freely and share their experiences, trainers also guide them on what to do and how to not fall for such traps/frauds.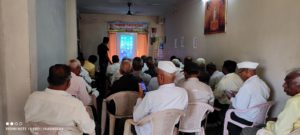 ILC-India is focused now on expanding the scope of this programme by reaching out to more and more rural or semi-urban organizations in various districts of Maharashtra, India.
Contact ILC-India
Website: www.ilcindia.in
E-mail: longevetic@gmail.com