UN INIA/ILC-I/TISS's international training programme on 'Social Gerontology' in India
4th December 2017
As the Satellite Centre for the SAARC region, of UN's International Institute on Ageing, Malta, ILC-I organised the 'in situ' training programme in Hyderabad, India.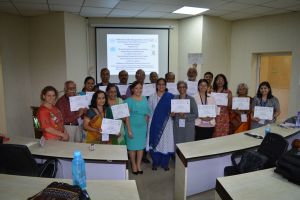 Making it easier and more convenient to attend training programmes in 'Gerontology' and Geriatrics', United Nations' International Institute on Ageing, (UN INIA), Malta conducts 'in situ' training programmes in the SAARC region through its Satellite Centre of ILC-I.
This year the training took place in Hyderabad, India from the 4th to the 8th of December 2017, in collaboration with the Tata Institute of Social Sciences, (TISS) and with the support of the Bharati Vidyapeeth Deemed University.
There was participation from Nepal and Bangladesh too, with participants coming from varied backgrounds – medical professionals, social workers, senior citizens themselves eager to get a holistic and comprehensive review of the situation of population ageing in the world and India, academicians, architect, nursing professionals, professionals running caregiving institutes, NGO professionals, individuals from the technical and scientific fields- all of which indicated the growing interest in the older persons and their situation.
Ms. Rosette Bonello-Farrugia, the Dy. Director, UN INIA, was the Chief Guest at the inauguration of the programme held on the 3rd of December 2017. Dr. K. R. Gangadharan, the former President of the International Federation on Ageing (IFA), was the Guest of Honour. A special Guest on the occasion was the nonagenerian, Mr. R. N. Mittal, the former President of the All India Senior Citizens' Organisation (AISCCON). Mr. Jayant Umranikar, Chairman, ILC-I presided over the function. Prof. Dr. S. Siva Raju, Hon. Director, ILC-I and Dy. Director, TISS, and the International Faculty of UN INIA from India, was also present on the occasion.