Subsidies for future policymaking on ageing
18th October 2018
International symposium in São Paulo held by ILC-BR.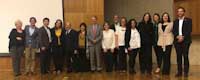 In October, ILC-BR organised an International Symposium to specifically discuss public policies and provide subsidies for the next government. The speakers provided a critical analysis of public policy of the last 10 years and provided recommendations for policymaking in the future. There was a strong recognition among the speakers that all stakeholders, including the private sector, play a pivotal role in advancing policies in ageing societies.
The event was livestreamed over Facebook and the full recording is available on ILC-BR's Facebook profile. The Symposium was organised in partnership with the Open University for the Third Age of the University of São Paulo and co-sponsored by TENA Brazil and MSD Pharmaceuticals.