Senior Planet Celebrates the 90th Birthday and Life-long Activism of Ms Muriel Beach, ILC-GA Representative to the UN
1st December 2017
On December 1, 2017, close to 100 friends of Muriel Beach gathered at Senior Planet Exploration Center in New York to celebrate her 90 years on this planet during which she has made enormous contribution to society and people of all ages. The audience included 25 years old Akiko Oishi from Japan and 95 years old, Helen Hamlin, from Manhattan.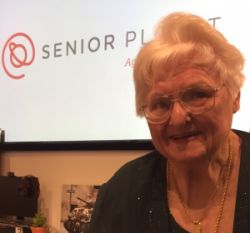 The celebration started with a seven-member band, The Mudflats, directed by Mimi Fahs playing Muriel's favorites such as "This land is my land…" and "You are my sunshine." The audience sang along and clapped hands to the familiar tunes.
Executive Director of OATS/Senior Planet and the organizer of the event, Tom Kamber, gave a welcoming speech. Praising Muriel's contribution as president of New York Statewide Senior Action Council NYC Chapter, active member of the intergenerational committee of the NGO Committee on Ageing NY, and many other roles, Tom declared "Muriel is a role model for all of us. With her belief, 'we can change the world,' she has changed my life. At age 90, Muriel continues to inspire people."
Muriel's close friend, Susanne Seperson read a poem, Intergenerational Solidarity: Ode, for the occasion. The poem reads in part…
It's our contention:
When young and old help one another
Each becomes stronger working together.
To live with respect
Maintain harmony
Build a more inclusive community
Put a welcome mat out in an age-friendly society.
To these and other remarks celebrating the event, Muriel responded with a thank you speech. "My life was meaningful and rich because of you. To have someone like Alex Kalache and Robert Butler in my life means a great deal. I had a great deal of joy and happiness in my life because of you, all of you, my friends. This is an occasion to celebrate what wonderful things people do for each other. Tonight I see people from various activities I have been active in as well as my friends and neighbors. I wanted them to meet each other." Her speech met with a standing ovation.
The celebration closed with a video from Brazil. Alex Kalache, her close friend and President of ILC Brazil and Co-president of ILC Global Alliance, gave birthday greetings from Rio. "Muriel, you are a mentor to people of all ages. You have so many friends who deeply respect and dearly love you. With the view of the Copacabana beach in the background, I am now speaking to you from "Muriel's Balcony" in our apartment. When you visited us in Rio, we all had a great time and named the balcony as "Muriel's." I wish I were with you tonight at the party to celebrate your wonderful 90 years on this planet."
Author: Masako Osako, ILC Global Alliance