Public Forum on Age-Friendly Cities at the Parliament in Brasilia
6th December 2017
In the beginning of December, the Commission for the Rights of Older Persons of the Brazilian Parliament held a Public Forum on Age-Friendly Cities.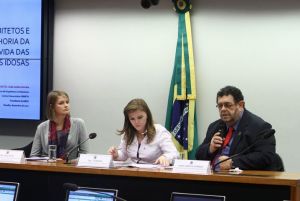 The Public Forum, hosted by the Federal Deputy Leandre Del Ponte, discussed different perspectives on age-friendly cities. The technical director of ILC-BR, Ina Voelcker, presented on the origins of the project, its conceptualization and principles. She also explained how it expanded under the leadership of the World Health Organization and how ILC-BR is taking the project forward in Brazil. She particularly stressed the importance of developing the project from the bottom-up, giving older persons a voice to articulate their needs and demands.
The second speaker, João Carlos Correia, President of the Brazilian Association of Teaching Architecture and Urbanism (ABEA) emphasised the physical and spatial aspects of an age-friendly city. The third speaker presented ideas of a Governmental programme on Age-Friendly Cities. The presentations were followed by a lively debate on how to turn successfully turn the initiative into a sustainable public policy and provided further input to a draft law that is currently transiting in between the Parliament and Congress.
Further information: Ina Voelcker