Participation in ILC-GA Singapore retreat and institutional visits in London
16th May 2018
During the month of May, ILC-BR's technical director Ina Voelcker participated in a 4-day workshop of the ILC-GA, organised and sponsored by ILC-Singapore.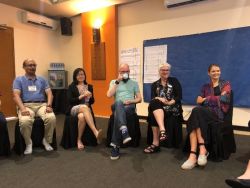 The workshop, which was held in Singapore and Bintan, an Indonesian island off the coast of Singapore, provided an opportunity to ILCs from around the world to discuss and produce two joint research proposals on questions around caregiving and the financing of long-term care systems.
On the way back to Brazil, Ina visited ILC-UK, the Centre for Ageing Better and HelpAge International in London. At HelpAge International, Ina gave a talk to interested staff members about ILC-BR's work on age-friendly cities. Ina also participated in an event organized by ILC-UK, the Health and Wellbeing Innovation Commission Inquiry in the House of Lords on retirement communities and care homes.