Longevity theme at Rio's new Museum of the Future
17th February 2016
Rio's Museum of the Future invites the visitors to think about what kind of future we want for ourselves and coming generations. ILC-Brazil's President spoke about longevity, one of the five core themes of the Museum, on February 16th.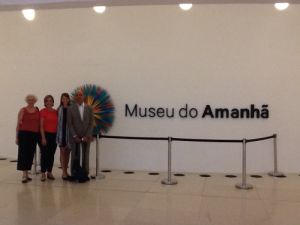 Rio de Janeiro's newest attraction, the Museum of the Future, discusses how choices made today will influence the world future generations will live in. The public is invited to reflect about several global trends, such as population ageing and climate change, and how these change our future.
Dr Kalache, President of the ILC-Brazil and member of the board of curators of the museum, provided the content for the Museum's displays on longevity. On February 16th, he held a lecture on "Longevity: is it possible for everybody to live longer and better?". He invited the audience to think about the City's not too far away future when two-thirds of the population of the famous Copacabana beach neighbourhood will be aged 60 and over. He also inspired people to think about their own process of ageing by making them recognise that it is a lifelong process and that there is a lot we can do, both at individual and societal level, to guarantee that people can age actively in a world in which a large proportion will be over 60.