Inspiring young entrepreneurs at Shell's LiveWIRE weekend
28th March 2017
On March 18th, Alexandre Kalache, President of ILC-Brazil participated as inspirational speaker in Shell's LiveWIRE weekend for young entrepreneurs. At the event, he highlighted the importance of the longevity revolution and the impact population ageing will have on their business ideas as well as their lives.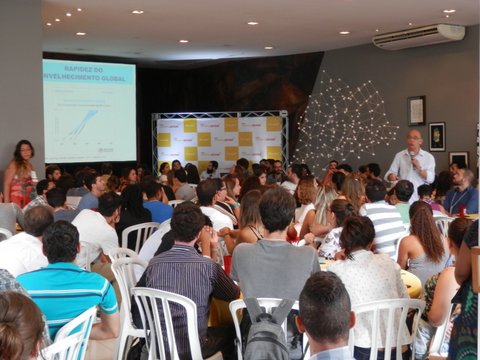 "You have heard a lot about population growth and just now that by 2050, there will be 10 billion people on this planet. But have you thought about how many of them will be older people and who will be those older people?" This is how Alexandre Kalache opened his inspirational talk at the Shell LiveWIRE weekend on March, 18th in the newly revitalised harbour area of Rio de Janeiro.
The young entrepreneurs aged between 20 and 34 were given food for thought, recognizing that it is they themselves who will be part of the large proportion of older persons by 2050. The Shell LiveWIRE programme, established in the UK in 1982 and in Brazil in 2002, offers free online business advice and funding to young entrepreneurs.
Picture: Alexandre Kalache, President of ILC-Brazil during his talk to the entrepreneurs.
Written by Ina Voelcker, International Longevity Centre Brazil