ILC-Israel's Annual Conference
25th December 2018
In December ILC-Israel held its annual conference. This year's conference topic was Ageism.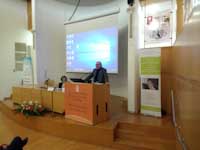 ILC-Israel and The Center for Multidisciplinary Research in Aging (CMRA), of Ben-Gurion University, organize annual conferences under the general title "Innovations and challenges in gerontology and geriatrics." This year's conference was held on December 25th, 2018, on the topic of "Ageism."
This multidisciplinary conference, which was offered free of charge to attendees, was a great success with an estimated 120 attendees present. The conference was comprised of two sessions – "Ageism, its Meaning and its Implications in Various Areas of Our Lives" and "Trends in Social Change regarding ageism." Presenters and attendees came from all over Israel, and included faculty and students from Ben-Gurion University of the Negev, Bar-Ilan University, and the University of Haifa, as well as members of the Ministry of Social Equality and Eshel-JDC, professionals working in services and institutions for the aged in the Southern region of Israel, and the public.