ILC-India Awards 2018
18th November 2018
The ILC-I awards are a salute to the dynamism and enterprising spirit of senior citizens 'organizations, older individuals and other stakeholders advocating the noble cause of senior citizens and are given annually.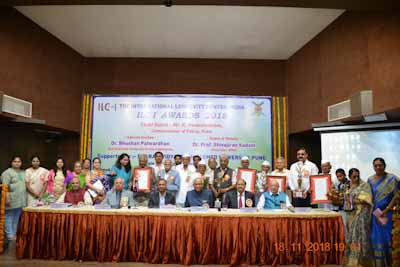 ILC-India is committed to recognizing all those who work for the cause of senior citizens for which the ILC-I Awards have been instituted since 2010.
The ILC-I Awards 2018 were held on the 18th of November 2018, at the Auditorium, New Law College, Bharati Vidyapeeth Deemed University, Paud Road, Pune.
The Chief Guest on the occasion was Dr. K.Venkatesham, Commissioner of Police, Pune.
The Special Guest on this occasion was Dr. Bhushan Patwardhan, Vice Chairman, University Grants Commission and Hon. Director of ILC-I.
The Guest of Honour was Prof. Dr. Shivajirao Kadam, Chancellor, Bharati Vidyapeeth Deemed University.
The President of ILC-I, Dr. R. A. Mashelkar, the Chairman of ILC-I, Mr. Jayant Umranikar and Dr. K. H. Sancheti, Chairperson, ILC-I Selection Awards Committee were the other dignitaries on the dais.
Under the aegis of the ILC-I Awards, the late Shri B. G. Deshmukh Award for "Promoting Qualitative Excellence in Ageing" were given to three senior citizens' organisations for excellent work done for the well-being and development of senior citizens in particular and of society in general and to four individual senior citizens over the age of 70 years for commendable work done by them in their lifetime.
Anjali Raje
Executive Director
ILC-I