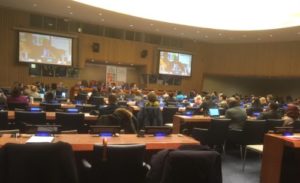 ILC GA's representative to the United Nations presented the oral statement for the Committee on Social Development (CSocD) 2019
19 February 2019
Compared to almost 20 years ago when the Madrid International Plan of Action (MIPPA) 2002 was adopted, technology has advanced at a phenomenal pace. ILC Global Alliance recommends the CSocD to highlight the importance of digital inclusion of older persons and specifically the need for digital training as a major component of lifelong learning for older persons.
Recent data about older persons' participation in digital technology shows a vast difference among countries. More than 80% of 65 years old and over have access to the Internet in some countries, while the percentage is less than 10% in others. We believe no older persons should be left behind in receiving the benefit of digital technology.
Economists have pointed out strong links between "not being online" and "social and economic disadvantages" such as being in poverty. Nowadays, job openings, social and health care services are accessed via the Internet. What does this mean for the large number of older persons that continue disconnected?
In 2019, 17 years after the MIPAA, the digital technology has become a significantly more important force than in 2002 in influencing a person's ability to deal with poverty and social isolation. Just imagine a life without email, messaging services and video calls, online banking, shopping and price comparisons portals, social media and dating apps, e-learning and job search pages!
Finally, at the time of "natural and human-made disasters" (such as a Tsunami, fires, hurricanes, and floods), access to digital information can be a key to survival, as it indicates, for example, a shelter to escape to and ways to connect with those who may be affected.
M. Osako, M. Gillis, I. Voelcker and S.K. Hartley contributed to this oral statement.