Celebrating an Honest Portrait of Aging in New York City
24th October 2017
The Columbia Aging Center has been following 20 older New Yorkers for two years with the aim of disrupting stereotypes of aging and portraying everyday life. Many of the 20 New Yorkers met for the first time on Oct. 24.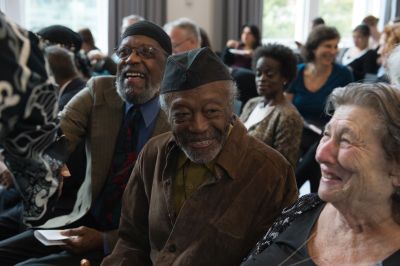 "Too often journalists do a terrible job reporting on this stage of life," Dorian Block, a journalist and co-lead on the project, said at the event. "They often portray older adults as pitiful, powerless, and static. And when not that, they're heroes: skydiving at age 100 or being asked to impart the single secret to long life. Our goal was to show the everyday lives of older people."
At the start of the project, in 2014, Exceeding Expectations participants had lived at least 81 years, the average life expectancy for New Yorkers. Through visits over many months, Block and a team of photographers and students embedded in their lives, bearing witness to their subjects' ups and downs. The resulting stories, lavishly illustrated with photos and videos, appear on the project's website and in the work of media partners.
"As we move through our lives, we get more different from one another over time," added Ruth Finkelstein, interim co-director of the Columbia Aging Center who conceived the project with Block. "By the time we grow older, we're really, really individuated." Exceeding Expectations, Finkelstein added, aims to be true to all "the wondrous diversity of people who achieve old age."
Among those profiled are Chandrakant Sheth, an Indian-American living in Sunnyside, Queens, who struggled with loneliness after his wife died; Manhattan residents George Blomme and Doug McClure, a longtime gay couple who want to get married; and Otto Neals, an African-American artist in Crown Heights, Brooklyn, grappling with what will happen to his artwork after he dies.
Visit www.exceedingexpectations.nyc to see photos, video and stories from the project.
By Timothy Paul (excerpted from the full article here: https://www.mailman.columbia.edu/public-health-now/news/honest-look-growing-old-new-york)