Brazilian Congress for Geriatrics and Gerontology
6th June 2018
In the beginning of June, ILC-BR's Alexandre Kalache and Ina Voelcker participated in the national conference of the Brazilian Society of Geriatrics and Gerontology (SBGG).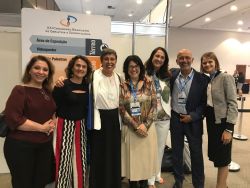 Alexandre Kalache had various commitments to present at a session about age-friendly cities, a key note on resilience and as moderator of a panel in which Ina presented on the review of the Madrid Plan of Action on Ageing and ageing within the global development agenda.
The Congress was an occasion to meet with many longstanding friends and colleagues from Brazil as well as representatives of the IAG of other countries of the region.