Baroness Sally Greengross appointed to serve as ILC Global Alliance's First Special Ambassador
28th July 2017
At its biennial meeting held on July 28, 2017 in San Francisco, the ILC Global Alliance board appointed Baroness Sally Greengross its first Special Ambassador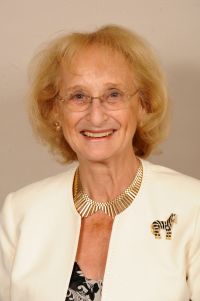 In this role Sally will speak at events, raise ILC Global Alliance's visibility and undertake various other tasks to help it attain global objectives, capitalizing on her international recognition as an expert on aging. Alex Kalache, Co-President of the ILC Global Alliance commented 'In addition to her commitment to its development over the many previous year as co-founder of the ILC-Global Alliance, Sally's vision, charisma, integrity, and brilliance combined with the highest level of professional respect she globally commands have all been instrumental to ensure that ILC Global Alliance has continued to thrive following Bob Butler's departure. We are delighted that Sally will utilize these attributes as Special Ambassador.' Sally stepped down from the Co-Presidency at the Board meeting in July 2017 after having successfully served the statutory two-terms.
Baroness Sally Greengross has been a crossbench (independent) member of the House of Lords since 2000 and Co-Chairs four All-Party Parliamentary Groups: Dementia, Corporate Social Responsibility, Continence Care and Ageing and Older People. She is the Vice Chair of the All-Party Parliamentary Group on Choice at the End of Life, and is Treasurer of the All-Party Parliamentary Group on Equalities. Sally is also Chair of the cross-party Intergenerational Fairness Forum.
Sally is Chief Executive of the International Longevity Centre – UK; was Co-President of the ILC Global Alliance from 2010-17 and is now their Special Ambassador; and was a Commissioner for the Equality and Human Rights Commission from 2006-12.
Baroness Greengross was Director General of Age Concern England from 1987 until 2000. Until 2000, she was joint Chair of the Age Concern Institute of Gerontology at Kings College London, and Secretary General of Eurolink Age. She is an Ambassador for Alzheimer's Society, SilverLine and HelpAge International.
Baroness Greengross is a Member of several advisory boards including Home Instead's Global Strategy Council; Fujitsu's Responsible Business Board; and BlackRock Retirement Institute's Advisory Council.
She is President of the Pensions Policy Institute and the Association of Retirement Housing Managers; Honorary Vice President of the Royal Society for the Promotion of Health, a Vice President of the Local Government Association and Honorary Fellow of the Royal Society of Medicine and the Institute & Faculty of Actuaries.
Sally is Patron of several organisations including the Association of Retirement Community Operators; Care & Repair England; the National Network of Clinical Ethics Committees; the Ransackers Association; the Association for Ageing & Education; and Age UK Westminster. Sally holds honorary doctorates from nine UK universities.
Her work on ageing has been recognised by the UN Committee on Ageing and she received an outstanding achievement award from the British Society of Gerontology as well a British Geriatric Society Medal. Sally was UK Woman of Europe in 1990 and has been an Ambassador for the Prince of Wales supporting responsible business practice.