Age Boom Academy: Combatting Loneliness in Aging – Toward a 21st Century Blueprint for Societal Connectedness
3rd September 2021
From 6 May to 11 June 2021, the Robert N. Butler Columbia Aging Center and the Columbia School of Journalism hosted the Robert N. Butler–Jack Rosenthal Age Boom Academy: "Combatting Loneliness in Aging: Toward a 21st Century Blueprint for Societal Connectedness" online.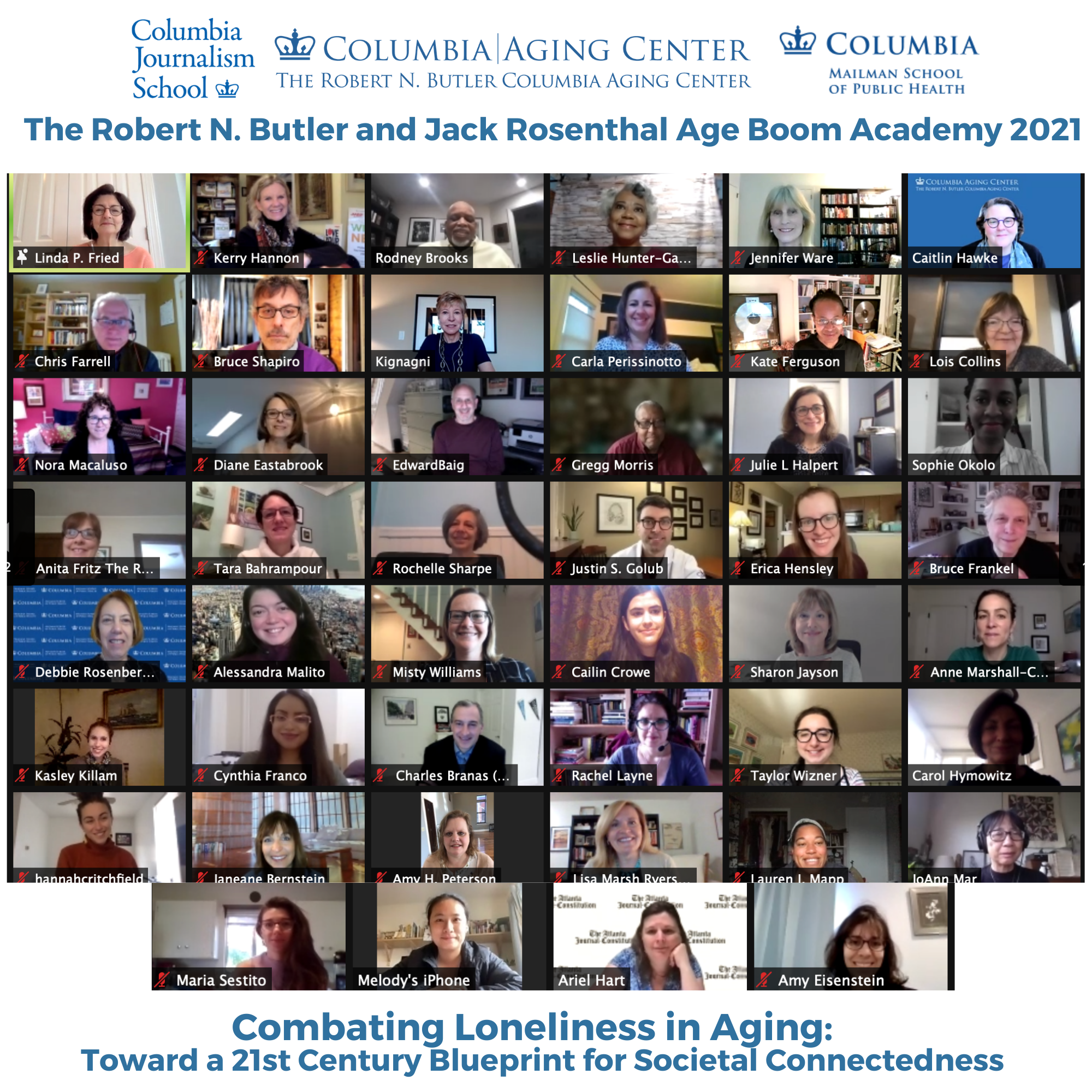 This signature annual press training is co-led by Columbia faculty members Linda P. Fried, MD, MPH, and Bruce Shapiro. The application was open to staff journalists or editors working at radio or television outlets or for a major newspaper.
Journalists were convened with leading loneliness and ageing science researchers for an intensive series of online workshop sessions to learn how to effectively translate science and examples of successful solutions into accessible reporting on the complex issues of the effects of loneliness and social isolation on health and in aging.
This project was made possible by a generous grant from RRF Foundation for Aging and a gift from the AARP Foundation.
During the Academy, journalist Fellows learned about the causes and envisioned, through sources, the solutions by interviewing assembled scientists and experts, participating in story clinics led by researchers and senior journalists, having their story ideas critiqued by researchers and potential sources. Speakers included Linda P. Fried, MD, MPH; Louise Hawkley, PhD; Tom Kamber, PhD; and Becca Levy, PhD; as well as many others.
This first virtual Age Boom Academy training brought in a 'solutions journalism' approach as well as senior members of the press corps who served as mentors and included Rodney Brooks (formerly of the Washington Post), Richard Eisenberg (NextAvenue), Chris Farrell (Marketplace), Kerry Hannon (New York Times contributor), and Carol Hymowitz (formerly of Bloomberg News).
All sessions and materials are openly accessible to all journalists working on the topic of loneliness and ageing via the 2021 Academy program portal.
The Age Boom academy was founded in 2000 by globally-recognized geriatric pioneer, Robert N. Butler, M.D. and prize-winning New York Times editor and writer, Jack Rosenthal as an intensive, high-impact training seminar for journalists, editors, and producers in all media – print, on air and online –to deepen understanding of the health, economics, and social issues around aging.
2021 Age Boom Academy Program portal
If you are a journalist and wish to apply for future Age Boom Academy press trainings, please email: columbiagingcenter@cumc.columbia.edu with 'Join Age Boom Mailing List' in the subject line.
To view the twitter stream from the 2021 Academy, search #AgeBoom2021.
Author: Sebastian Hartley, student volunteer for the ILC Global Alliance