Advancing towards a more age-friendly hospital
10th December 2018
Since the beginning of 2018, ILC-BR works for a hospital in the Southern town of Veranópolis, providing guidance on how to turn the hospital more age-friendly.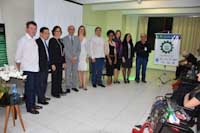 After approval of the ethics committee, older patients and caregivers are being interviewed about their experience in the hospital and group discussions with interdisciplinary teams held to understand processes and explore professionals' perceptions of quality of services offered to older patients.
The results of this research will feed into an action plan, covering training sessions for staff and family caregivers, the introduction of new protocols and revision of existing processes as well as structural changes in the physical environment of the hospital. The project is financed through tax incentives and additional funds for 2019 have been secured.