What comes to your mind when you think of "ageing"?
21st April 2018
ILC-BR Technical Director Ina Voelcker spoke about longevity and population ageing in an event aimed at inspiring 700 employees of the Brazilian Federal savings bank Caixa Econômica.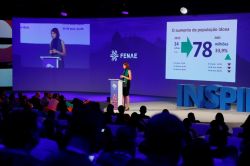 On 21st of April, Ina Voelcker had the opportunity to inspire 700 employees of Caixa Econômica, the largest government-owned financial institution of Latin America, which participated in a two-day event on the big challenges our societies are facing. Ina invited the employees to reflect about ageing and question the images that come to their mind when thinking of ageing. In addition to demographics, Ina spoke about the impact of population ageing on the various sectors of society and about possible approaches to respond to these challenges.