ILC Brazil's Alexandre Kalache delivers a keynote presentation on keynote on "Active Ageing and the Longevity Revolution"
21st June 2018
Over 700 people participated in the 1st Regional Forum on Active and Sustainable Ageing of the Médio Vale do Itajaí in the southern State of Santa Catarina. The keynote on "Active Ageing and the Longevity Revolution" was delivered by Alexandre Kalache.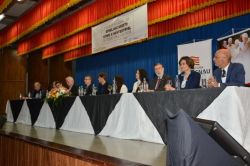 The event was organised by the Centre for Public Policy of the Regional University of Blumenau.
Alexandre Kalache delivered the opening keynote on "Brazil – each time older" at the EXAME Health Forum in Brasília. While talking about the impact of population ageing in Brazil, he highlighted the tremendous inequalities in the country. He also put the discussion on health in the context of bigger social problems, such as high rates of violence and precarious educational outcomes. The event took place on June 21st and was live streamed via Exame's Facebook page.