ILC Japan is to host a public symposium entitled "Toward a Satisfactory Life Farewell" in Tokyo
28th May 2015
The symposium, to be held on 6th June 2015, will explore an increasingly influential view in Japan that preparing for one's departure from life should be an integral component of one's life planning.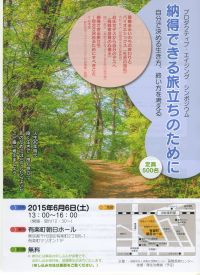 The venue will be Yurakucho Asahi Hall. The symposium is over-subscribed and is expected to attract as many as 800 participants.
The presentations will include:
"Saying 'farewell to life' with dignity— implications for bioethics" by Dr. Rihito Kimura, Professor Emeritus , Waseda University
"Taking personal initiative in preparing for a farewell from this world – it is your responsibility, not someone else's," by Keiko Higuchi, President, Women's Association for a Better Aging Society
"What everyone should and can do to prepare for a satisfactory life farewell," by Kanao Tsuji, MD, President, Life Care System, Ltd.
For more information, please visit:
http://www.ilcjapan.org/doc/tabidachi_sympo.pdf