ILC-Singapore Blog: Singapore elders graduate from self care program
11th March 2013
About 150 older people were recognized in a graduation ceremony for the Self Care on Health for Older People in Singapore Program (SCOPE) last February 26, 2013. SCOPE has been implemented by ILC-Singapore since June 2010 as a community development …
About 150 older people were recognized in a graduation ceremony for the Self Care on Health for Older People in Singapore Program (SCOPE) last February 26, 2013. SCOPE has been implemented by ILC-Singapore since June 2010 as a community development intervention that enables older people to practice self-care and manage chronic diseases better with the long-term goal of helping sustain good functional status and quality of life.
The graduation event was graced by the Deputy Speaker of the Parliament of Singapore and Chair of the Parliamentary Committee on Family and Social Development, Mr Seah Kian Peng, as guest of honour and by Dr Mary Ann Tsao, President of Tsao Foundation.
More than the training completion, the event was a celebration of the elders' commitment in hurdling the 28-week program despite their advanced old age, 72 years on average, lack of formal education and chronic health conditions. The innovative program worked with 7 senior activity centres and 18 volunteer community health partners to effectively reach out to the elders and establish a community-based, group activity-driven and peer monitoring intervention where they learn skills in self-care, healthy living, and management of chronic diseases such as diabetes, hypertension and chronic obstructive pulmonary disease.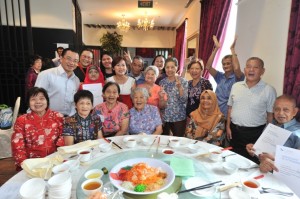 (Photo 1: Deputy Speaker of the Parliament in Singapore Mr Seah Kian Peng, Tsao Foundation President Dr Mary Ann Tsao and International Longevity Centre Singapore Director Susana Concordo Harding celebrate with elder from one of SCOPE Program's partner centres.)
SCOPE is also randomized controlled trial involving close to 400 older people who are organized into intervention and control groups. This research component is led by Associate Professor Angelique Chan, who is the Director of the Tsao Foundation Ageing Research Initiative at the Faculty of Arts and Social Sciences of the National University of Singapore and Dr David Matchar, Director at the Health Services and Systems Research at Duke NUS Graduate Medical School Singapore. In the preliminary baseline assessment, majority are found to have 1 or a combination of 2 chronic disease and most are also found to have low awareness and knowledge of their conditions before the program started.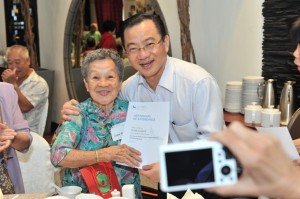 (Photo 2: Deputy Speaker of the Parliament in Singapore Mr Seah Kian Peng with a SCOPE Program participant.)
Participants from the intervention group completed 28 sessions (56 hours in total) that focused on health promotion, disease prevention, health seeking behaviour, chronic disease management, and anti-stigmatization. The weekly sessions are interactive workshops filled with activities and discussions led by the volunteer community trainers.
After completing their core training of 7 months, older persons in intervention groups have continued with two hours of weekly support group sessions. They also have Peer Health Partners who help provide continual support and motivation so they can be on track with his/her self-care plan.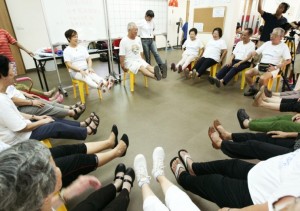 (Photo 3: A SCOPE Program participants leading a group exercise together with the volunteer community health trainers.)
In a preliminary assessment, the elders maintained a 70.4% attendance rate. In a survey conducted, almost all participants find the SCOPE training clear & easy to follow, practical, enjoyable, well-presented by the volunteer community health trainers. They shared that it has made a positive impact in their lives & needed by ageing Singaporeans.
In a separate progress assessment at the end of the training, the volunteer community health trainers observed many positive changes among the participants such as improving engagements among loners; being mindful about medication; having regular exercise; cutting down on smoking (from 1-2 packs to 3-4 sticks a day); being careful with food intake; being mindful about taking fruits and vegetables as part of daily diet; having a more positive disposition and better temperament; and general increased in motivation to learn more about self-care.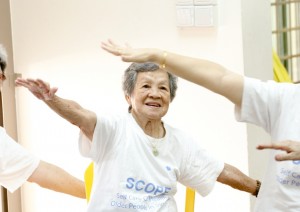 (Photo 4: One of the oldest SCOPE Program participants, Madam Leow thoroughly enjoys the group exercises.)