Webinar: Data, bots and drones: Transforming access to health through technology
Date: Tuesday, 6 July 2021
Time: 2.00pm – 3.30pm BST (3.00pm – 4.30pm CEST)
Venue: Webinar
REGISTER HERE
ILC-UK are hosting a webinar on how digital technology can help improve access to health and increase uptake of vaccinations across Europe.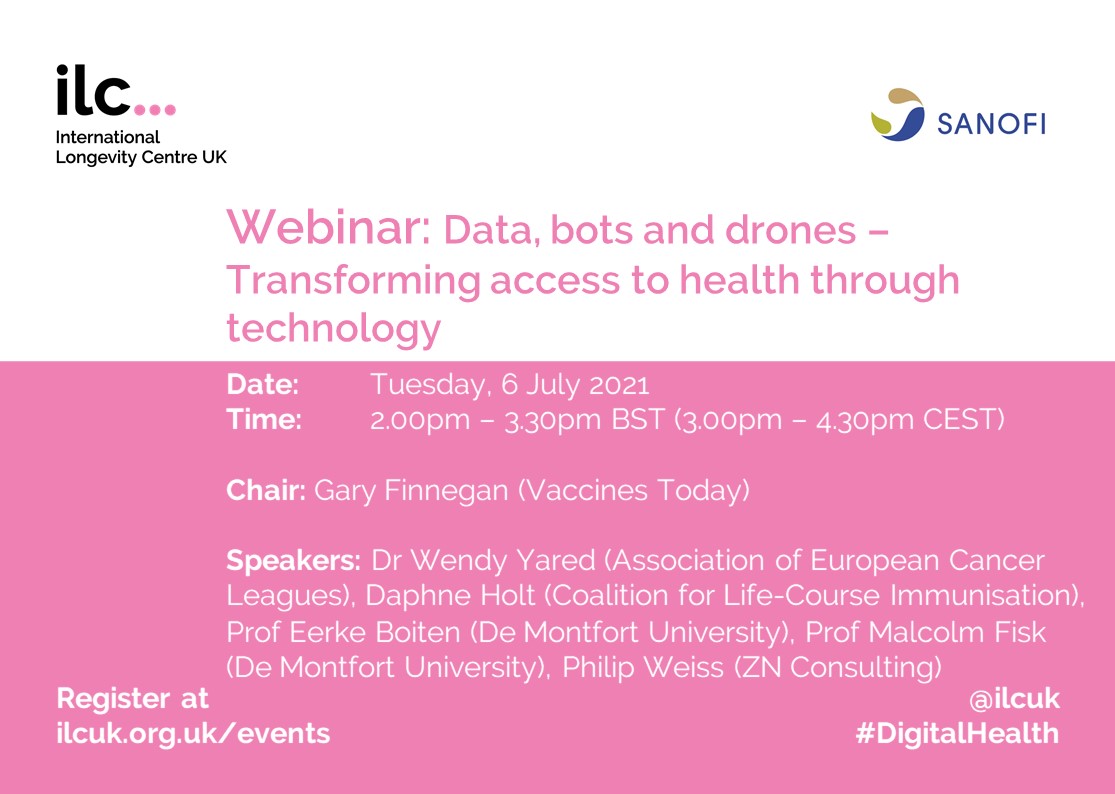 In 2019, ILC-UK with the support of Sanofi, produced a report "Data, bots and drones", which explored how technology could best increase access and overcome barriers to vaccination.
Since the report, the European Council has led a series of policy initiatives, including the development of guidance for establishing comprehensive electronic immunisation information systems, proposals around a common vaccination card and most recently discussions around a "digital green COVID certificate".
The EU plans "ambitious reform of the digital space", including a Digital Services Act and Digital Markets Act, which provide ample opportunity to consider issues such as data sharing and the potential for public–private partnerships, both in the context of the pandemic and recovery, as well as more longer-term. The EU Communication on Digital Transformation of Health and Care identifies three priorities:
Citizens' secure access to their health data, including across borders
Personalised medicine through shared European data infrastructure
Citizen empowerment with digital tools for user feedback and person-centred care
Join ILC-UK this summer for a discussion where they will consider how this ambition can be realised and how the proposed regulations can best help not hinder innovation.
Confirmed speakers:
Daphné Holt, Chair of the Coalition for Life-Course Immunisation (CLCI)
Dr Wendy Yared, Director at Association of European Cancer Leagues (ECL)