IFA conference side event: Investing in preventative health to unlock a longevity dividend
Date: Thursday, 11 November 2021
Time: 1.00pm – 2.30pm EST
Venue: Drummond Room North, Four Points Sheraton Hotel
RVSP
Join ILC-UK and ILC Canada for a high-level discussion alongside the 15th IFA Global Conference on Ageing on how we can drive greater investment in preventative health in the post-pandemic recovery.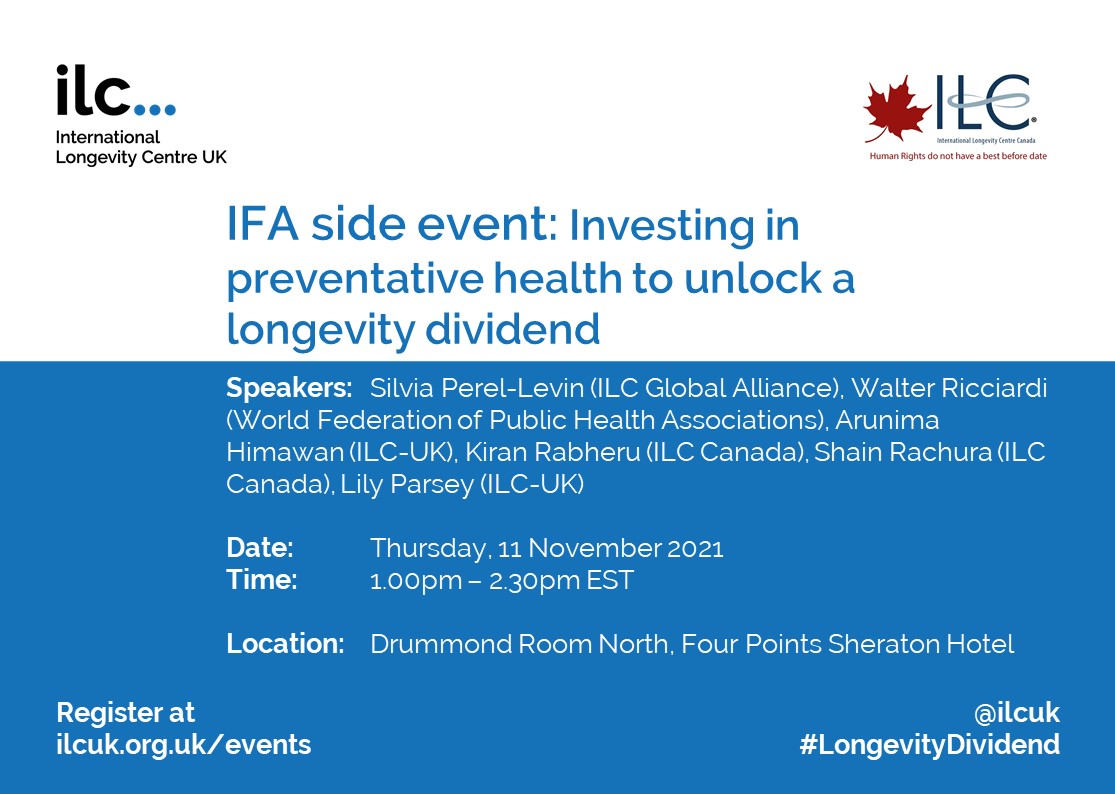 Speakers and facilitators include:
Silvia Perel-Levin, ILC Global Alliance, UN NGO Committee on Ageing
Walter Ricciardi, World Federation of Public Health Associations
Arunima Himawan, ILC-UK
Kiran Rabheru, ILC Canada
Shain Rachura, ILC Canada
Lily Parsey, ILC-UK
We know that prevention is better than cure. Be it vaccinations, screenings, adhering to medication or healthier lifestyles – we know prevention works, that it's cost-effective and can save lives. And in an ageing world, it's more important than ever to move upstream to make sure people aren't just living longer, but healthier lives. But despite international consensus on the prevention agenda, action, and most importantly, investment has been lagging.
There is a clear case for investing in prevention, by reducing down-the-line healthcare costs, as well as supporting the wider economy. Comparing countries across the G20:
In countries that spend more on health, older people work, volunteer and spend more.
Countries where more older people are vaccinated against the flu have higher employment rates for those aged 65 to 69 and higher consumption rates for those aged 60 and over.
Increasing preventative health spend by just 0.1 percentage points can unlock a 9% increase in annual spending by people aged 60+ and an additional 10 hours of volunteering.
Among OECD countries, Canada is the country that spends most on preventative health – 6% of its health budget, which compares to an average of 2.8%. What has worked in Canada? Is the money being well-spent, and what more could be done? Is 6% enough, or do we need to go further?
Join ILC-UK and ILC Canada to discuss:
What more needs to be done to deliver meaningful preventative health strategies?
What can we learn from the recent experience of the COVID-19 pandemic?
And how can we stimulate meaningful investment in prevention/ health promotion that will support health systems and economies as they build back from the pandemic?