Webinar: Under the microscope - Comparing countries' experiences of the COVID-19 pandemic
Date: Thursday, 1 July 2021
Time: 09.00am - 10.30am BST (10.00am - 11.30 CEST, 4.00pm - 5.30pm CST)
Venue: Webinar
REGISTER HERE
Join ILC-UK for a webinar comparing the impact of the COVID-19 pandemic on different countries across the world.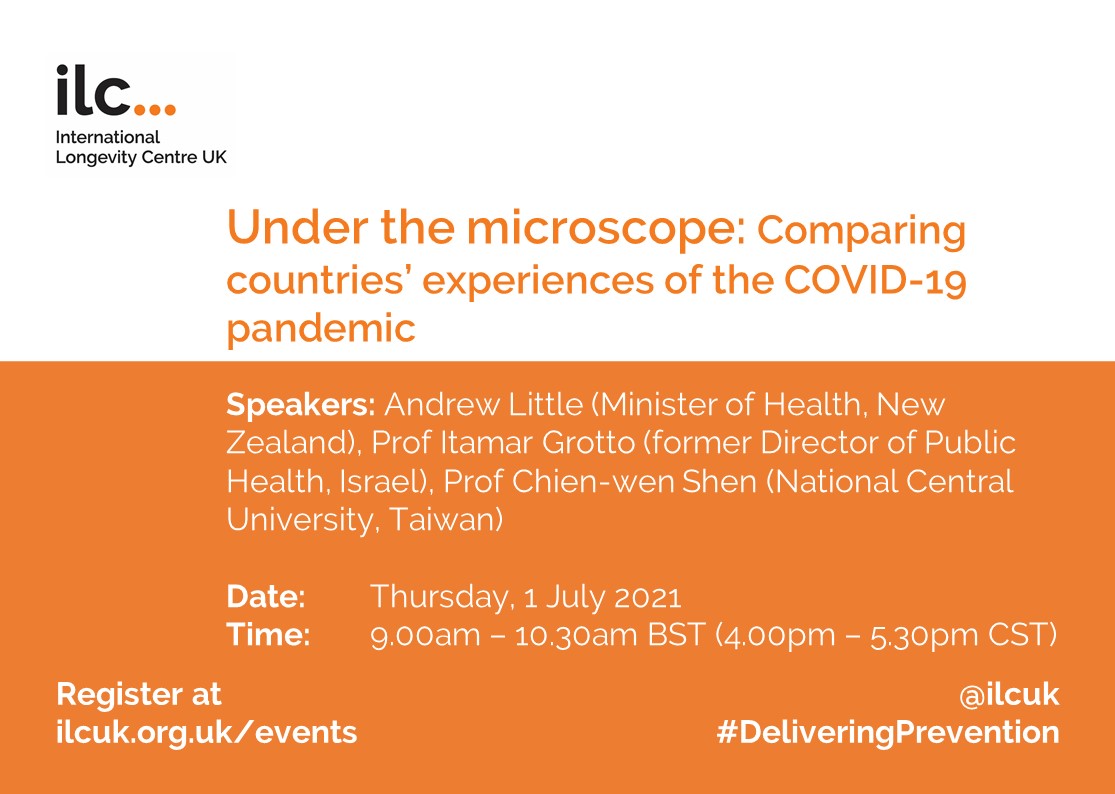 Speakers include:
Andrew Little, Minister of Health, New Zealand
Prof Itamar Grotto, former Director of Public Health, Israel
Prof Chien-wen Shen, Professor in Department of Business Administration at the National Central University, Taiwan
COVID-19 has had devastating effects on health systems and economies across the world and has put the importance of the prevention of ill health throughout the life course into sharp focus– from the importance of better pandemic preparedness to the need to promote the overall health of the population.
But not all countries have fared the same. There have been huge discrepancies in case numbers, death rates and most recently vaccine uptake. And there have been just as many different approaches to handling the pandemic.
But what has worked, what hasn't and what can be learned for future preventative efforts in an ageing world?
As part of their ongoing international Delivering prevention in an ageing world programme, in this high-level discussion ILC-UK will take a deep-dive into the different experiences of COVID-19 across New Zealand, Israel and Taiwan to:
Examine examples of good practice and how these could be applied elsewhere
Highlight common challenges and solutions
Explore how countries have addressed the inequalities within and between countries that COVID-19 has highlighted and exacerbated
Discuss the impact of the pandemic on decision makers, healthcare professionals and individuals' attitudes to prevention
Explore the role of technology and data in the COVID-19 response
Unpick what this all means for the prevention agenda going forward.