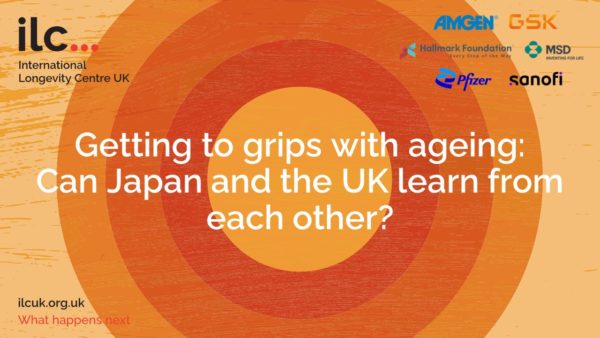 Getting to grips with ageing: Can Japan and the UK learn from each other?
Date: Thursday, 9 February​ 2023
Time: 9am – 10.30am (GMT); 6.00pm – 7.30pm (JST)
Venue: Virtual
Watch here
Japan is the only super-ageing nation in the world. At the same time, it is a comparatively healthy country. What can the UK learn from Japan, and vice versa? And how can we leverage the opportunity of Japan's upcoming G7 presidency?
Join ILC and the National Graduate Institute for Policy Studies, Tokyo on Thursday, 9 February 2023.
Speakers include:
• Dr Taichi Ono, National Graduate Institute for Policy Studies, Tokyo
• Professor Yoko Matsuoka, Tokyo Kasei University
• Arunima Himawan, Senior Health Research Lead, ILC-UK
• Professor Judith Phillips, Deputy Principal (Research) at the University of Stirling and Professor of Gerontology