10 Years On - Enhancing Financial Resilience of SG Women: Evidence from a Longitudinal Study
Date: Friday, 16 April 2021
Time: 4:00pm – 5:30pm SGT
Venue: Webinar
WATCH RECORDING
Earlier this year, the International Longevity Centre Singapore (ILC-S), an initiative of Tsao Foundation, held a webinar to discuss financial literacy, financial resilience, and financial security among Singaporean women.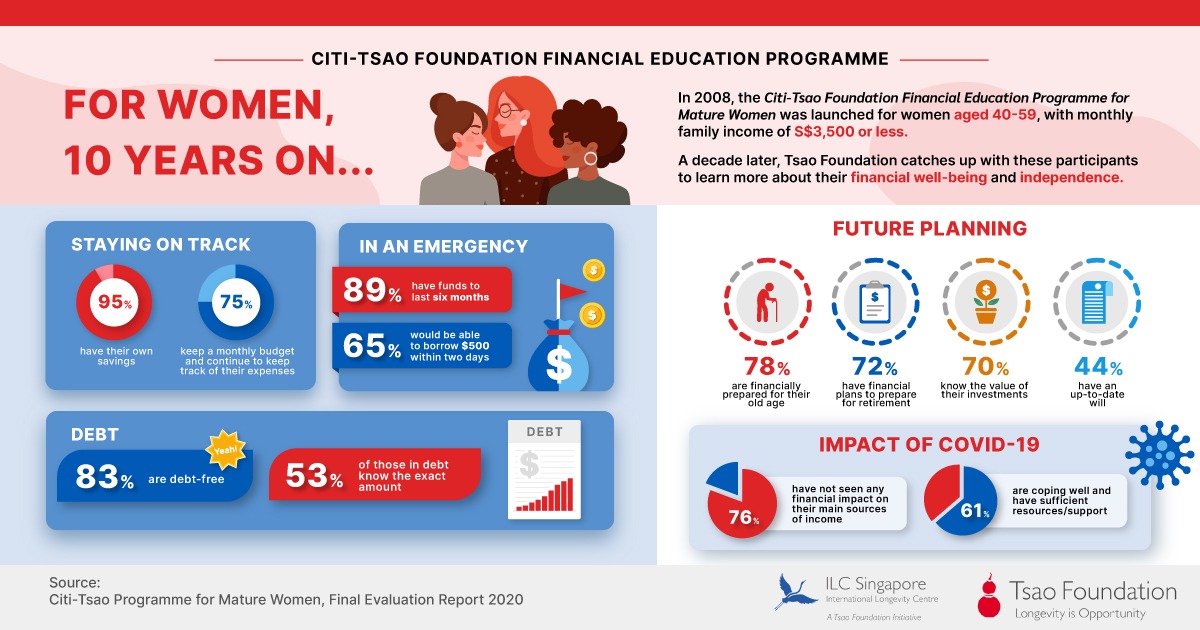 In 2007, Tsao Foundation with support from Citi Foundation, developed and launched a financial education programme targeting Singaporean women over 40 years of age.
The Citi-Tsao Foundation Financial Education Programme for Women seeks to address the financial vulnerability of low income women and to highlight to key policymakers the critical need for a public policy to ensure the financial and social security of older women in Singapore.
Earlier this year, in conjunction with the Year of Celebrating Singaporean Women in 2021, ILC-S held a webinar to present the findings of a mixed methods longer-term assessment of the programme and its impact on participants.
An expert panel of speakers also discussed how women across all age groups need to enhance their financial resilience to achieve financial security, in light of the longer life expectancy of women in Singapore.
Panel of Speakers:
Ms Mariam Jaafar, MP for Sembawang GRC for Woodlands
Ms Ginarita Ng, Citi-Tsao Foundation Financial Education Programme alumnae
Ms Dawn Cher, Financial Blogger
Dr Joanne Yoong, Senior Economist, USC Center for Economic and Social Research
Guest of Honour:
Mrs Josephine Teo, Minister for Manpower and Second Minister for Home Affairs
Moderator:
Ms Susana Concordo Harding, Senior Director, ILC-S