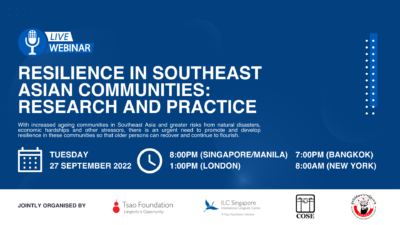 Resilience in Southeast Asian Communities: Research and Practice
Date: 27 September 2022
Time: 8:00pm (Singapore/Manila) / 7:00pm (Bangkok) / 1:00pm (London) / 8:00am (New York)
Venue: Online
Register here
International Longevity Centre - Singapore, Tsao Foundation cordially invite you to join us at our webinar scheduled on 27 September 2022, Tuesday.
With increased ageing communities in Southeast Asia and greater risks from natural disasters, economic hardships and other stressors, there is an urgent need to promote and develop resilience in these communities so that older persons can recover and continue to flourish.
Through collaboration with academics and practitioners from Southeast Asia, the regional community resilience project (RCRP) was commissioned to explore how community resilience manifests and can be promoted among place-based ageing communities in the region.
In this webinar, we will share and discuss resilience research, frameworks, and good practices for programming in ageing communities, focusing on a Southeast Asian perspective. Findings from our case studies of good practices from each partner country of Singapore, Philippines, and Thailand will be presented.
Through this sharing, we hope to catalyse wider discussion, practice and partnerships on resilience-based approaches and research in your communities or programmes.
Contact ILC-Singapore